UNIDRIVE M : AC DRIVES AND MOTORS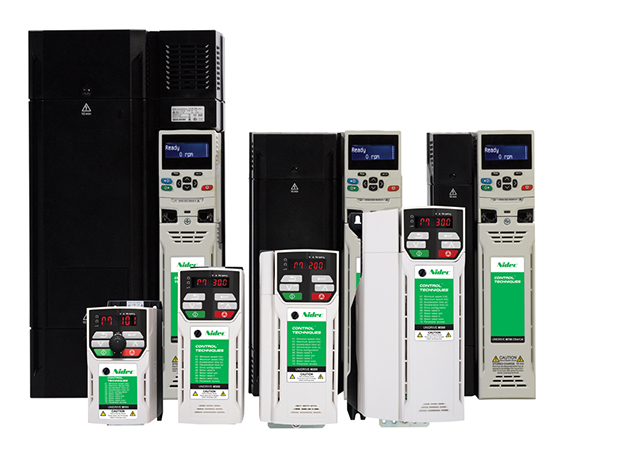 AC Drives and Motors
Control Techniques AC drives (variable frequency drives or variable speed drives) provide world-class solutions to the widest range of applications and industries.
• Wide power and voltage ranges with high performance motor control within a compact size and robust design for long and reliable service
• Extendable capabilities through a large range of click-in option modules for ease of use
• Integrated programmable automation and motion control
Features
Easy to set-up
• Designed to make set-up as simple as possible.
• Many applications require changing just a few settings.
• Adjustments are easy with the keypad and clear step-by-step guide.
• Useful parameter guide located on the front of the drive.
Concise parameter set for ease of use
• For fast, batch production, parameters can be transferred to new drives using standard SD card with AI-Backup module or AI-Smart adaptor.
Reduced application size and cost
• Unidrive M drives are amongst the smallest in their class.
• Drives can be fitted side-by-side to save even more space.
• Designed for easy assembly in or out of a cabinet.
• DIN rail mounting supported below 1.5kW.
Save energy
• Low power standby mode – drives can sit idle for significant periods.
• Automatic 3-speed cooling fan – keeps energy usage to a minimum by intelligently responding to load and the environment.
• Square law V/F mode - optimized for quadratic loads like pumps and fans to reduce motor losses.
• Dynamic V/F mode - keeps energy usage and motor losses to a minimum in low load conditions.
• Unidrive M is 98% efficient – only 2% energy is lost in the conversion process across the drive.
Minimize downtime with robust and reliable drives
• Conformal coated PCBs – for increased resilience to moisture, dust, chemicals and temperature extremes.
• Patented air flow system – efficiently cools drives while protecting internal components from degradation.
• Ingress protection up to IP21 – UL open class (NEMA 1) compliant.
 
 

CONTACT US
Head Office
Tel. (+66) 02 722 0245 , (+66) 02 017 6999 (30 Line)

Chiang Mai Branch
Tel. (+66) 053 802 997-8  

Phuket Branch
Tel. (+66) 076 521 067-8 

Khon Kaen Branch
Tel. (+66) 043 001 417