BLUETOOTH® COMMUNICATION FOR REFRIGERATION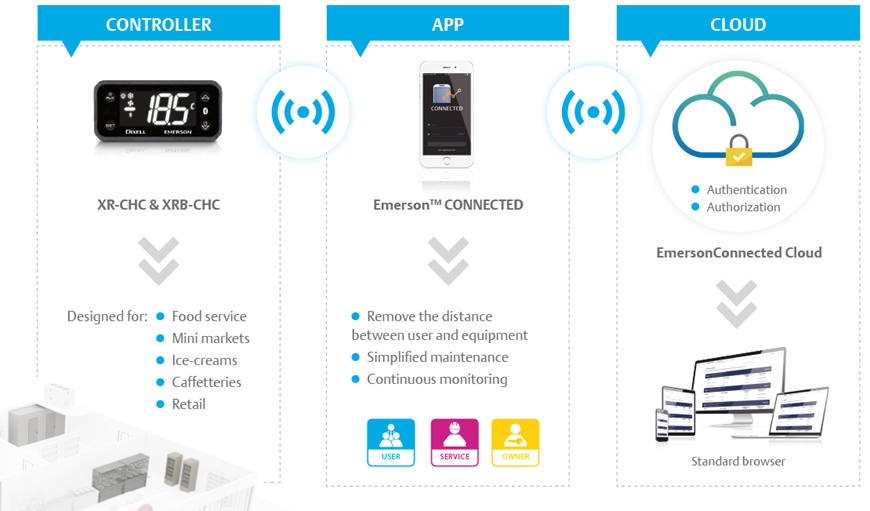 XR-CHC & XRB-CHC controllers
XR-CHC & XRB-CHC series are the innovative controllers designed for refrigeration applications that guarantee high usability and quality food storage. Particularly the XRB-CHC family is dedicated to bottle coolers while the XR-CHC is designed for cabinet and cold rooms. The controllers include Bluetooth® connectivity that allows interaction with mobile devices thanks to the Emerson™ CONNECTED App, making easier configuration, services, analysis and more.

• User friendly interface
• Direct access to main functions
• Easy and intuitive installation
• Hot Key connector for quick and easy programming
• Automatic defrost management
• Pull down time
• Condenser monitor for maintenance management
• Service counters
• Firmware upgradable
• Double parameter map
• RTC with Lithium battery

High value
• The new X-MOD motion detector sensor is the ideal solution for refrigeration field, particulary for cold rooms and bottle coolers, because it is designed for light control and sales performance indication.
• Bluetooth® connectivity.
• Reports (temperature values and events) are easily accessible for a complete and immediate food control. It is possible to save reports as files and send them to other PCs for storage and analysis.
• Thanks to the easy and fast installation of instruments and App, it is possible to install the controller in a few minutes, create new users and browse all the functionalities of the Dixell solution. 
• The system is provided with an advanced user control method that blocks unauthorized connections to the controller always ensuring a high security level of the system.
• The powerful datalogger of the instrument allows users to save temperatures, alarms and events. Depending on the sampling time that has been selected, it is possible to save up to 1 year of data. 
• ​We firmly believe in the respect and safeguard of the environment and respond to the requests of eco-friendly gas usage, such as Propane. Controllers mount relays suitable for ATEX applications as they have been tested following EN60079-15.
Standard refrigeration
XR30CHC 
XR60CHC
XR70CHC
 XR77CHC
Bottle coolers
 XRB30CHC
 XRB60CHC
 XRB70CHC
 

Display

110, 230Vac

​110, 230Vac

110, 230Vac 

110, 230Vac 

Power Supply

110, 230Vac

 

110, 230Vac

110, 230Vac 

110, 230Vac

Probe inputs

up to 3 x NTC/Pt1000*

up to 3 x NTC/Pt1000*

up to 4 x NTC/Pt1000*

up to 4 x NTC/Pt1000*

Digital inputs

up to 2 x configurable**

up to 2 x configurable**

up to 2 x configurable**

up to 2 x configurable**

Relay outputs

16 + 8A

16 + 8 + 8A or 20 + 8 + 5A

16 + 8 + 8 + 5A

16 +16 + 5 + 7A

External ports

HOT KEY, TTL

HOT KEY, TTL

HOT KEY, TTL

HOT KEY, RS485

Terminals

spade, screw or plug-in

spade, screw or plug-in

spade, screw or plug-in

spade, screw or plug-in

Buzzer

present

present

present

present

Data Logger

optional

optional

optional

optional

RTC with Lithium battery

optional

optional

optional

optional
**Up to 2 NTC/Pt1000 when the digital input is configured as probe         **Up to 3 NTC/Pt1000 when the digital inputs are configured as probe

CONTACT US
สำนักงานใหญ่ (พัฒนาการ)
โทร. 02 017 6999 (30 คู่สาย), 02 722 0245

สาขาเขียงใหม่
โทร. 053 802 997-8  

สาขาภูเก็ต
โทร. 076 521 067-8 

สาขาขอนแก่น
โทร. 043 001 417