Movicon. NEXT
The innovative, revolutionary and future-proof software technology for every supervision, remote control and SCADA/HMI application..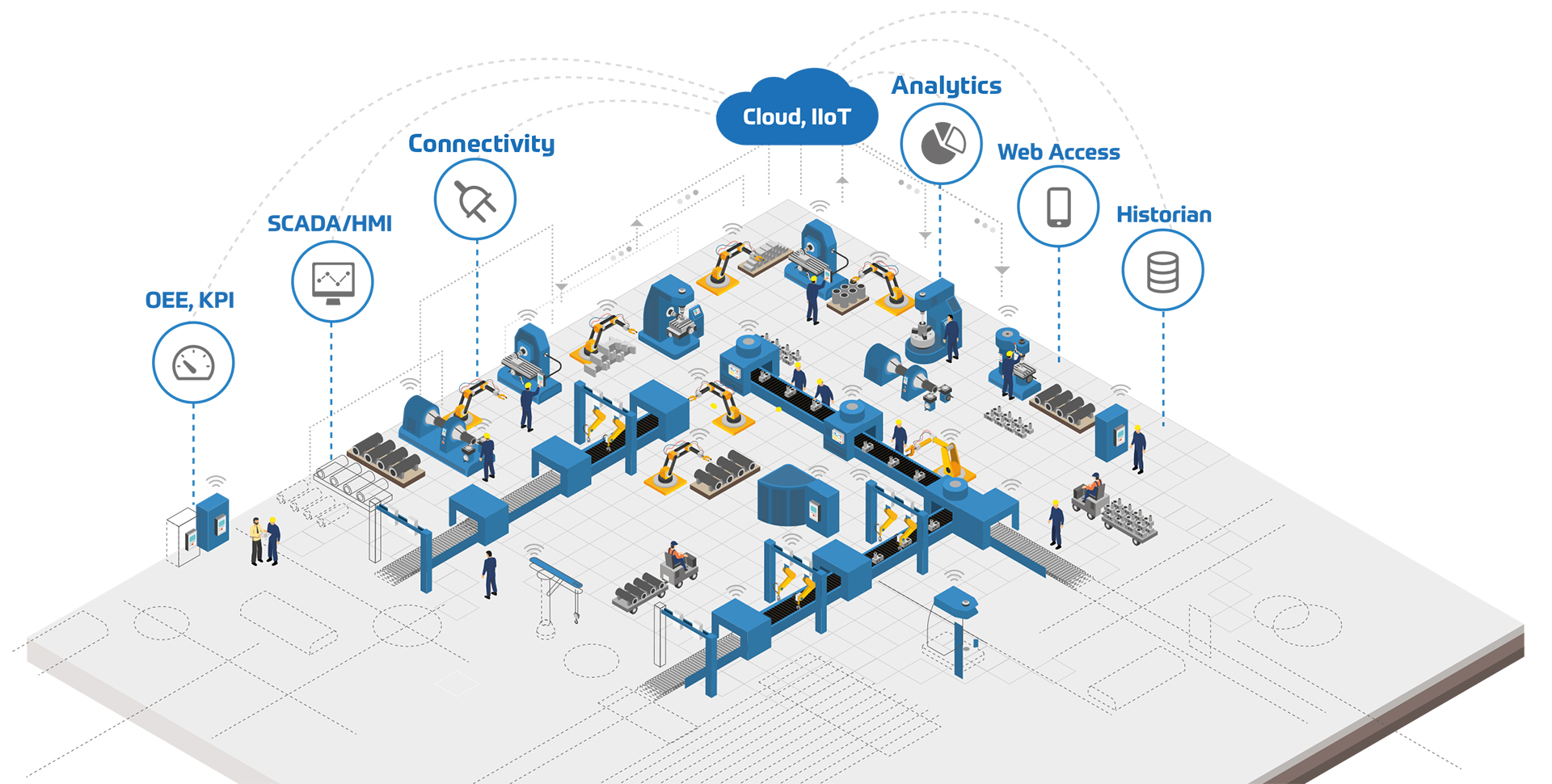 Innovative Platform
Movicon.NExT is based on the Automation Platform.NexT modular platform and offers an open and modular .NET framework. It has a rich suite of functional modules to ensure open, powerful and expandable projects.

 
Scalable and Modular
Movicon.NExT™ has been designed to ensure maximum scalability offering an all-inclusive configuration environment for modular solutions that integrate with the platform in the most simple and flexible way possible. The scalable Movicon.NExT™ architecture is designed to save time and costs offering unlimited ways of deployment. The Movicon.NExT™ technology is based on the "Plug-In" concepts to offer maximum system interoperability to the extent that new functional modules can be integrated in the Progea Framework to allow users to completely customize their .NET solutions as needed.
 

 
Fast Engineering
Movicon.NExT ™ offers a totally integrated, innovative and snazzy development environment that comes with a rich set of intuitive features. The platform is entirely based on modern technology that reduces development time in creating projects in respect to the technology used in pre-existing solutions. This is done by using wizards and templates, unprecedented symbol libraries and toolbox offering top graphical quality and reusability. Functions are modularity concept-driven to allow users to externally create and implement functional plug-in modules that totally integrate with the platform.
 

 
Conforms to Standards
The Movicon.NExT™ software technology is entirely based on standards deriving from openness and reliability. The XAML and WPF technology ensure the most effective and modern graphics standard, the historian technology is based on Ms SQL Server and Azure that support any Relational DB in the most transparent way using the ADO Provider (supports MySQL and Oracle).
The project files are based on the XML standard or the SQL DB standard. The powerful language is based on the standard VB.NET syntax. Communication is OPC UA-based and includes a great selection of integrated communication protocols. Access over the web is HTML5-based. All provided with the best technology standards around.
 

 
SOPC UA, IoT and Connectivity Drivers
The Movicon.NExT™ Information Model is based on innovative OPC UA technology with full support to specifications (DA, AE, HA) as Client and as Server. This ensures native connectivity to the maximum towards any device or module application based on this technology that offers unprecedented security and performances.
The I/O Data Server modules comes with a great selection of native I/O Drivers that are integrated and free for use. The provide direct connectivity for devices that have propriety protocols such as Siemens S7, Rockwell, Modbus, Omron and many more. The platform's Client/Server ensures extremely simple and performing network architecture.
Appropriate connectors and the IoT gateway (Internet of Things) add towards creating modern connectivity architectures in public networks that is simple and fast. The Progea Cloud.Databoom platform permits you to manage your own data collection and analysis architectures with IoT and Cloud technology.
You can also create applications to distribute and interconnect with each other wherever using the Runtime for Windows 10 IoT Core.
 

 
Exceptional new generation XAML graphics
Movicon.NExT uses the Windows Presentation Foundation (WPF) vertor graphics rendering engine. This new generation technology allow you to create new dynamic graphical interface systems in 2D and 3D. The graphics libraries have been completely re-designed to offer top quality objects and symbols. Dynamic animations and graphics features with native multitouch will project you into the new era of HMI. Full support to XAML vector graphics import as well to the traditional BMP, PNG, JPG and multimedia formats.

 
Powerful Alarm Management
Movicon.NExT offers a powerful Alarm management that includes new functions and alarm types. Activation on deviation value or rapid data changes have been included along with the traditional activation on events. The alarms are stored on database for chronological or statistical analysis. The Alarm Dispatcher sends notifications to personnel by SMS, Email or VOIP.

 
Maximum Security
Movicon.NExT™ ensures the highest level of security possible. It is ensured when managing data between client and server by using the OPC UA models and certificates. It is also ensured in the Users and Password by supporting the membership feature that is open to different authentication models such as biometrics recognition. Data and system integrity are secured with the Multi Server redundancy functions that make sure systems are running continuously even for the most mission critical application.

 
Historian and Data Loggers
The Movicon.NExT™ Data Server efficiently records all data managed for the Automation Platform.NExT platform using the Historian and Data Logger technology. The Virtual File System (VFS) system offers data extraction in respect to the data recording support utilized. Data are recorded in Ms SQL Server format for default. It is also possible to use the predisposed connectors for the Oracle and My SQL databases or Microsoft Azure for Cloud technology as well.

 
Reports, Trends and Data Analysis
Movicon.NExT provides you with powerful analyzing and reporting tools to use no matter where you have decided to record your historical data. You will find Trends, Charts, Tables, Data Analysis and an inbuilt powerful Report Designer offering you sophisticated analysis solutions local and over the web. Analyzing historical data in Movicon.NExT is totally integrated and does not require additional tools and consents access to any DB, data extraction and chart and table representation. The Report Designer allows you to create and manage reports locally or over the web offering unmatched features. The Web Dashboards allow you to perform data analysis using HTML5 Web Client.
 

 
Powerful integrated features
Movicon.NExT offers powerful inbuilt feature that are ready to use and configurable. Keyboard commands, virtual keyboards, menus, schedulers and many more are ready for use to enable a drastic reduction in development times even for the most complex application. A powerful Recipe management permits you to create data archives on DB with direct connectivity to the PLC using standard interface graphics that are configurable as pleased.
Open to any kind of project creation thanks to the integrated VB.NET language. Code are executed to perfect compatibility with the VB.NET standard. A powerful and vast ranging set of API provided as well. It also comes with Function Block logic (FBD) to manage sequential logic.
 

 
HTML5 Web Client
Movicon.NExT™ is a platform that makes the factory access over the web an unprecedented reference point. Creating Web-enabled projects is extremely simple and effective thanks to the Web Server module that uses the HTML5 technology to ensure maximum portability across different platforms and operating systems made possible by the standard, top performance and graphics. APPs are also available for smartphone and table devices for Android, iOS and Windows Universal App.
CONTACT US
สำนักงานใหญ่ (พัฒนาการ)
โทร. 02 017 6999 (30 คู่สาย), 02 722 0245

สาขาเขียงใหม่
โทร. 053 802 997-8  

สาขาภูเก็ต
โทร. 076 521 067-8 

สาขาขอนแก่น
โทร. 043 001 417